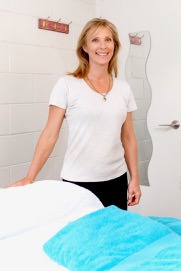 Robyn McKean
I completed my Advanced Diploma of Myotherapy at Melbourne Institute of Massage Therapy. Myotherapy is the assessment, treatment and management of musculoskeletal conditions. I utilise a range of techniques to restore integrity of soft tissue structures and treat your condition.
I am a member of Massage & Myotherapy Australia.  Belonging to an association requires going to educational programs throughout the year which provides me with a growing knowledge in a wide variety of massage techniques.  For you, the client, it not only provides you with a rebate on massage fees through your private medical fund but it also ensures that you are treated with up-to-date care in the health industry.
I graduated from TAFE in June 2011 with a Diploma of Remedial Massage and immediately started my career with Gerringong Physiotherapy.  During my training I gained experience in treating a wide variety of clients such as sporting teams, aged, disabled, pregnancy, children as well as working adults.  I have worked in different environments like chiropractic and osteopathic clinics, pre and post sporting events as well as the TAFE clinic which is open to the public at Loftus in the Sutherland Shire.
I have lived in Gerringong since 2010 and really like the casual lifestyle and meeting people in the area.  As a mother of three children, I can appreciate the needs of pregnant clients and busy family lifestyles.  Having the experience of being a keen sportsperson competing in tennis, swimming, netball, softball, baseball, soccer, hockey, touch football and oztag, I have an understanding of preparation for sport and associated injuries.   I have attended Yoga, Hot Yoga, Pilates, Ocean Fitness classes in the area so that I can confidently recommend additional beneficial programs for my clients.
I am committed to continuing professional development and helping clients find a way to manage both their physical and mental wellbeing.

---
Logan McGlinchy
I moved to Gerringong in 2016 and love my new home.
After living my whole life in the Sutherland Shire and completing my HSC at Engadine High I was accepted into the University of Western Sydney where I graduated with a Bachelor of Health Science (PD,H,PE) in 2010. I sub-majored in biology and chemistry which started my interest in anatomy and physiology.
I later graduated Loftus TAFE with a Diploma of Remedial Massage where I had the opportunity to work in a variety of environments with a wide range of clients. During my study I treated clients at the TAFE clinic provided for the public and embarked on excursions to aged care facilities for the elderly and mentally ill. I have worked in clinics for youth, pregnancy and sporting teams.
I have played rugby league since the age of 6, as well as oztag, touch, baseball, tae kwon do, body boarding, soccer and golf. I currently play rugby league for the Northern Suburbs Bulldogs and have recently began learning Brazilian Jiu Jitzu at Gracie Barra Albion Park.
I am currently practicing at "Myotherapy balance your body" as well as being mobile to come to you.